RELLEBEE. OUR STORY.
Dear Friends of Rellebee, 

Thank you for taking the time to check out our new website.  It is evolving as Rellebee evolves… 
A little background. I started Rellebee back in November of 2021.  The last of my four children had gone off to college and I had officially become an empty nester.  The house was quiet. I was feeling restless and uninspired as I tried to figure out what my next chapter would be. I began clearing out closets. In doing so, I stumbled upon my old collection of vintage suede and leather jackets, most of which had not been worn in years.  I decided I would transform the jackets into handbags.
I picked up a pair of scissors and laid an old nubuck suede jacket on the kitchen table.  The lining was ripped, the shoulder seams had come apart and the stitching was thread bare.  There were oil marks around the collar and discoloration under the sleeves from years of use.  
My mother had worn the jacket for years until she decided that it had become too scuffed and broken in for her liking so she handed it down to me.  The jacket travelled with me to college and then New York City and many places in between picking up more scrapes, scars and stains along the way. The smell of the leather reminded me of her and I imagined a faint hint of perfume. 
Scissors in hand, I prepared to slice into the leather but couldn't find the heart to do it.  I realized that if I destroyed the old jacket I would be destroying all of the history and memories that it carried. I hung the jacket back in the closet. 
Instead, I would search for a hide that was filled with as much character, and that would move me as much as the old suede jacket had.  I drove to Gloversville NY, the leather district in New York City and a tannery in Virginia.  I climbed ladders and crawled in warehouses untiI I found what I was looking for. The perfect most imperfect hide.
I found a leather stitcher in downtown Baltimore named Don and together we cut the hide in his basement. Every day we stitched bags with thick, heavy, waxed tiger thread using every last scrap of the leather.  I brought the batch of bags home and set them up on the dining room table.  Friends stopped by. They liked them and walked out with bags on their shoulders. 
It has been a year now.  Don is still hand stitching but now we have help from a small factory in Baltimore and one in Pennsylvania. Hide-by-hide, focused on small batch production we craft unique bags with character and maybe even a story to tell. 
I hope Rellebee bags last many years and that perhaps they get passed along becoming more scraped, scarred and stained along the way just as leather should. 

With Gratitude,
Sorrel
PS: I named the bags Rellebee as an ode to my mother, Sorrel (nick-named Rel). The bee is to remind us of hard work, perseverance, & community.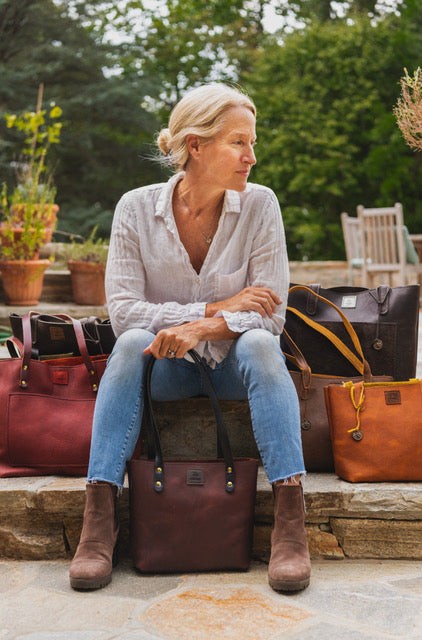 About Sorrel
Sorrel King studied fashion design at Parsons School of Design. After working for other designers in the 1990's she created her own women's sportwear line which was called Sorrel King.
The collection was carried in Bendels, Barneys, Macys, Bloomingdales and boutiques around the country.  She closed shop after her fourth child was born and spent the next 20 years raising her family. Occasionally she wondered what might have happened if she had continued with the business. 
With the last of her four children in college she decided to return to her design roots this time designing leather handbags.